'
How to keep safe and prevent abuse'
Through lively group exercises, reflection and the consideration of case scenarios participants will have the opportunity to establish practical ways of ensuring personal safety. We will emphasise that everyone has the right to be respected, listened to and to make choices and decisions in their lives that others may not agree with.
To create a relaxed environment where participants feel confident to discuss personal safety and how to recognise abuse.
To be clear about reporting procedures and recognising individual rights and responsibilities.
To develop personal assertiveness.
To identify different types of abuse and abusive practice.
To be aware of personal rights.
To develop assertiveness in potentially abusive situations.
To know who to talk to about any concerns regarding personal safety.
To be aware of procedures following an allegation.
To understand good practice in the prevention of abuse.
To increase independence, self-respect, self-esteem.
To promote participation within the community.
For people with learning disabilities.
Handouts in 'Easy Read' Format
To discuss the benefits of the course further, costs, venue etc please contact:
Tina Thordal – 07815 064710 or e-mail tina@tinatraining.co.uk
Bill Horrocks – 07929 035297 or e-mail bill@tinatraining.co.uk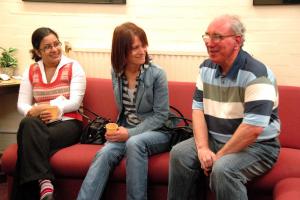 'Enjoyed course very much - very practical and at right level'
'Very good. Nicely presented'
'Very informative, enjoyed course'
'A very fulfilling day, very much enjoyed'
'Very relaxed atmosphere, very knowledgeable, enjoyed course'